Affiliations and Awards
(Scroll down the page or click here to view our Awards)
We are proud of our industry leadership.
Sweep All is a Member in Good Standing of the Better Business Bureau. Our Better Business Bureau membership makes it easy for any prospective customer to check out our company's track record in our service area. We are proud of Sweep All's reputation and take every step necessary to make sure we provide the utmost in service quality and customer satisfaction.
Because of our long-standing record of excellence, our company has received a coveted A+ rating by the BBB. Our company membership is with the Louisville Chapter of the BBB.
---
We belong to the North American Power Sweeping Association (NAPSA). Through NAPSA, Sweep All management receives a variety of industry discounts, which allows us to keep our pricing stabilized at the lowest level possible.
Our NAPSA membership also allows us to better keep up with the latest equipment, service techniques and environmental (and other) issues surrounding the power sweeping industry. We also receive training discounts at the yearly National Pavement Exposition, which our management team also attends in order to keep up with current industry trends.
Besides doing big construction and commercial cleaning projects, we currently work for nearly 30 neighborhoods in Oldham County and many other residential areas in Kentucky and Indiana.
---
Sweep All is also a Founding Member of the World Sweeping Association, as well as a signator to WSA's 'Ethics in Power Sweeping Program,' which is required for membership. Use this link to find out more. This further emphasizes the many reasons you can be assured Sweep All follows best practices in all our employee training and other activities. To find out more about how our World Sweeping Association benefits both us and our customers, click here to access our explanatory pdf handout.
When Sweep All is handling your parking area sweeping and other needs on your property at night, when you aren't there, you can rest easy knowing our employees have the training and skill set to note and report to you any suspicious activity, lights out, or other situations worth noting.
---
Company Awards
We are proud to have received news media recognition.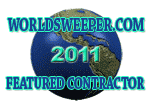 Sweep All, Inc. was Chosen as WorldSweeper.com's Featured Contractor for October 2011.
Sweep All's management and employees are proud to have been chosen as one of only 12 WorldSweeper-Featured Contractors in the U.S. per year.
For details, we invite you to check out WorldSweeper.com's story on Sweep All, Inc., which includes an audio interview with our company president, Doyle Caffee.
---


In December of 2010 Sweep All was honored to be recognized by Louisville's business journal, Business First. The feature article recognizes Sweep All's integral position in the business community of Louisville and the surrounding area.

Among other items, the article discusses Sweep All's cleaning of Papa John's Cardinal Stadium, as well as what our founder, Doyle Caffee Jr. cited as "one of the most interesting jobs the company has had," the final construction cleanup of the bottom of McAlpine Locks & and Dam. Before they let the water in, Sweep All was called upon to give the locks a good scrubbing.

We are pleased to offer a reprint of the initial article as a PDF file here on our website. (Will download or open into a new window.)



---
Shouldn't you see what Sweep All's winning team can do for your outside maintenance needs? You'll be glad you did!
Use the link button to contact us via the web, or call us today.
In Louisville our direct number is 502.267.0066. Out of the area? Call toll free, 866.977.9337.