Welcome
---
Services
---
Affiliations and Awards
---
Customer Profiles
---
Ethics
---
Why Sweep?
---
Employment Info
---
Contact Us
---
Sweep All Can Handle Any Cleanup.
Whether your cleaning needs include a huge construction site, a retailer's sidewalk or your neighborhood street, Sweep All does every job the same way with:
• Quality services • Latest equipment
• Reasonable prices • Dependable staff

Sweep All continues to invest in new equipment that will provide an even better service to clients. Right now, Sweep All is the largest independently owned company of its kind in Kentucky. With such a large inventory of equipment and trained staff, Sweep All requires only a two-hour notice for your special clean up needs.
All our trucks are in compliance with federal regulations concerning the Clean Waterways Act. The trucks are fully equipped with wide pick-up heads that provide powerful suction across the entire width.
---
Sweep All, Inc.
Chosen as WorldSweeper.com's
Featured Contractor for October 2011!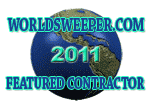 Sweep All's management and employees are proud to have been chosen as one of only 12 WorldSweeper-Featured Contractors in the U.S. per year.
For details, we invite you to check out WorldSweeper.com's story on Sweep All, Inc., which includes an audio interview with our company president, Doyle Caffee.
---
Sweep All is proud of its membership with the Better Business Bureau. Our longstanding record of outstanding service and customer responsiveness has earned us an A+ rating with the BBB. We invite you to check out our additional affiliations and company honors.
---
We are also proud of our industry involvement with the World Sweeping Association. To learn more about the advantages our WSA membership provides to both our company and our customers, click here to view our pdf file on that topic. To view our pdf handout about WSA's 'Ethics in Power Sweeping' initiative, which SweepAll also adopted as a Founding Member, click on the logo animation shown below.
Wonder if you are in Sweep All's current service area? For your convenience, here is a link to a map showing the geographical area in which we currently offer services.
---
Use the link button shown at the left to contact us via the web. If you are in our area, please contact us via our direct number, 502.267.0066. Out of the area? Call toll free, 866.97.SWEEP (866.977.9337).

We look forward to exceeding your expectations!